ILGM or ILoveGrowingMarijuana is one of the best seed banks in 2022, as ILGM has everything you can expect from an ideal seed bank.
From having the best quality cannabis seeds, multiple strains, guaranteed delivery to providing a germination guarantee, ILGM has got your back in every manner.
However, today we will be digging deeper into this ILGM review so that you can know all the pros and cons of buying seeds from ILGM.
Let's get started:
Is ILGM Legit And Safe?
Legitimacy is the most asked concern when buying weed seeds from online seed banks.
It is also essential to know whether the seed bank you will trust for investing your money is deserving or not.
And to answer that concern, directly for ILGM – yes, ILGM is a 100% legit and safe seed bank that has been operating online for the last ten years.
I Love Growing Marijuana is now a brand that almost every weed enthusiast knows in the cannabis world.
However, the journey of ILGM started a decade back, which you will get to know in the history section of this ILGM review.
Coming to legitimacy, then ILGM is a brand of excellence established in the Netherlands, the hub of marijuana lovers.
And from the hometown of coffee shops worldwide, ILGM has been one of the most trusted sources for its top-notch quality seeds, which shows how reliable they are.
Even the company has excellent ratings of 9.1 out of 10 from the 17,500+ reviews at Kiyoh, which adds trust to this best seed bank.
Summing up, ILGM is the seed bank that you can blindly trust. They have been in the market for almost a decade now. They are known for selling high-quality seeds across various countries.
You will never be disappointed after buying marijuana seeds from ILGM!
History Of ILGM Seed Bank
The journey of this enormous empire starts from the earlier life of Robert Bergman, the founder of I Love Growing Marijuana.
His passion for cannabis made him build this huge seed bank.
However, initially, his passion led him to gather knowledge for cannabis and its cultivation for 25 years.
He also cultivated weed at a small scale when he sprouted five plants in his household to make his knowledge more practical.
When Robert finally got to know everything about marijuana seeds and their cultivation, he founded ILGM in 2012 as a blog.
Yes, you read it right!
ILGM was first a marijuana blog.
The founder shared knowledge to help other marijuana enthusiasts and growers.
This blog also opened a way for other marijuana enthusiasts to share their experiences, making it a whole community for cannabis lovers.
Soon, the ILGM got popular among the cannabis community, people started liking the blog, and eventually, ILGM got a massive base of marijuana lovers.
Robert finally decided to make his blog more beneficial for marijuana growers.
The lack of quality seeds and legit sources made Robert launch his seed bank to help growers get the best quality seeds with trust and support.
Backed with years of knowledge, experience, and support from many experienced growers, ILGM became a popular seed bank in no time.
Now, in 2022, almost every marijuana grower knows about ILGM.
And the best part of this seed bank is not only the best quality they are providing but their support, guide, and confidence in every grower to make the most out of their marijuana garden makes them unique.
Also, even today, with every order, you get the "Marijuana Grow Bible" included free of cost at ILGM.
The guide includes everything from scratch to finishing to get the best yield from your marijuana gardening.
Even if you are a newbie to marijuana seeds and cultivation, you can go through the ILGM blogs and their Grow Bible, which will quickly help you master marijuana gardening.
It is how Robert built the ILGM empire throughout its journey.
The journey of this seed bank is backed with knowledge, resources, and experience, which makes it one of the best seed banks out there.
Also, the years of hard work and consistent quality performance have made ILGM one of the most trustworthy and quality sources for the best marijuana seeds.
ILGM Seeds Selection & Quality
ILGM has a wide seed selection of marijuana seeds.
The company believes in providing quality more than quantity; that is why they have got the finest 100+ strains for growers.
Whether you are searching for autoflowering, feminized, or regular seeds, ILGM has your back!
Also, ILGM includes their exclusive strains (their own seeds) and mix packs in the selection, which are available only here.
Moreover, this seed bank is so confident in its seeds' quality that they are backed with a germination guarantee.
If ILGM seeds fail to sprout, they will replace them with the new seeds for free without asking any questions. Isn't this fantastic?
It is one of the best features of buying seeds from ILGM seed banks. That is why most of the growers buy seeds from the ILGM.
Quality Of Seeds
ILGM doesn't believe in numbers.
Instead, they believe in providing the best seed quality. That is why the quality of seeds is always best in the market from other seed banks.
With an over 95% germination rate, ILGM promises the best genetics in marijuana seeds they have.
That is why they give you a germination guarantee to assure you more to make you get the most out of your investment at their seed bank.
Somehow, if their seeds fail to germinate or stand on the germination guarantee (which rarely happens), they will replace the seeds for free.
Also, ILGM helps you grow marijuana by troubleshooting your issue. Thanks to their friendly customer service, we will discuss this further.
All in all, ILGM is one of the best seed banks that offer high-quality seeds, the best seed genetics, and a guide for beginner growers, which makes it one of the most reliable seed banks.
Strains Selection
ILGM has a wide array of strains selection.
They have around 100+ strains available on their menu. All of their strains selection are of top-notch genetics.
Thanks to their website interface. You can quickly search throughout the 15+ autoflowering seeds, 70+ feminized seeds, and regular seeds categories.
Besides that, ILGM has 30+ mix packs available for professional growers looking for a mixed pack of strains.
That means you can easily find almost every marijuana strain at ILGM.
Also, whether beginner growers or experienced cultivators, you are sure to find the best quality seed genetics at ILGM seed bank.
ILGM Feminized Seeds
Feminized seeds are the best to start your cultivation journey. Because with female seeds, you will have more chances for an excellent yield.
And at ILGM, you will get a variety of feminized marijuana seeds of top-notch genetics.
Some of the best ILGM feminized cannabis seeds are:
Apart from this, you can also get various feminized strains according to your need, such as high yield, indoor, outdoor, small plant, fast flowering, beginner, high THC, and high CBD seeds.
ILGM Auto Flowering Seeds
For a faster finish, ILGM's autoflowering seeds are best.
They have the most refined auto flower marijuana strain in stock of almost every strain available in the feminized version. Therefore, you can choose according to your need.
Some of their top-line auto flower cannabis seeds of ILGM are:
CBD Kush Autoflower (Medicinal weed)
Other than these, you can also get your hands on the other strains like Bubba Kush, Blue Dream, Blue Cheese, and Gelato auto flower, which are the most popular ILGM seeds.
ILGM Mix Packs
If you are growing marijuana at a large scale and want to buy popular strains in a single purchase, ILGM mix packs are here to help.
They will not only save money for you but will also have a variety of most premium strains in a single pack.
Mix packs are generally a package of multiple strains. These packages can contain specific strain types like Indica or Sativa or any other specific category in which they are mixed.
Don't worry if you can't decide which marijuana mix pack to choose.
You can go for their beginner mix pack, which is under budget and has premium seed strains included like White Widow, Ak-47, and so on if you are a novice.
Otherwise, expert growers usually prefer mix packs like High Yield, Sativa Mix, or Colorful Weed Mix.
All of their mix packs come with a germination guarantee like other strains. If they fail to sprout, ILGM will replace seeds free of the additional cost.
You can take it as a money-back germination guarantee because they will re-ship you the same new order if anything goes wrong.
Some of the other ILGM mix packs of seeds are:
Well, there is more mix packs available according to your need. You can check them out here.
ILGM Nutrients And Other Products
Whether it is about the plant fertilizer, plant protector, or complete grow kit, ILGM is a one-stop destination for all of your marijuana needs.
And besides the cannabis seeds, ILGM also stores quality nutrients for your cannabis plants.
Experts recommend ILGM nutrients as they are organic and help soil building, making your garden reach the flowering stage faster.
Grow kits are also available at ILGM for all the growers out there. They are affordable and give a faster kick-start in your marijuana gardening journey.
The best part is that if you are a novice marijuana enthusiast, you can get their complete grow kit for beginners, which is a one-time investment for better results.
Go for the high yield grow kit if you have some skills and level up your gardening journey.
You can always opt as per your cultivation skills and expertise.
Overall, all ILGM nutrients and grow kits are recommended by cannabis experts and growers as they are the one-time solution for a better harvest for all marijuana growers.
ILGM Shipping Service & Delivery Time
ILGM seed bank has one of the best shipping services.
The company offers fast shipping to all 50 U.S. states for free. That means all U.S. orders will be shipped without any extra charges.
However, a standard shipping charge of $25 is included for other countries than the U.S.
Once the order is placed successfully with the completion of payment, the company will likely ship the order within two weekdays.
Depending upon the situation, ILGM might take up to 4 days to ship your package.
Thanks to the stealth packaging. ILGM has one of the highest successful delivery rates of the orders, not like just any seed bank.
Discreet Packaging
Commonly, marijuana seeds are seized by customs and authorities.
Therefore, ILGM offers discreet packaging and stealth delivery to ensure every order reaches its destination.
ILGM might pack your seeds in random objects like C.D.s, DVDs, sex toys, t-shirts, other objects, or simply in air-tight packages.
Well, their privacy-centered packaging is so discreet that you never know in which object you will get your seeds this time.
That is why people love to order from ILGM, as the company respects the privacy of its customers and delivers packages in a very confidential manner.
Guaranteed Delivery
ILGM promises guaranteed delivery.
Therefore, besides the ILGM's efforts for discreet packaging and stealth delivery, this seed bank will send you another package of orders for free if you don't receive your seeds.
Yes, another package of your order – for free!
It is how much ILGM is dedicated to its customers.
Therefore, you can blindly place your order for the rest of the things ILGM will take care of.
Delivery Time
ILGM has a fast shipping service.
All the U.S. orders arrive within just one week (3-5 days in most cases) as ILGM has one of the hubs in California from where they ship the orders.
Besides the U.S., ILGM takes around 15 working days to deliver the order. This time can also vary according to weather, remote location, and government barriers.
Customer Service At ILoveGrowingMarijuana Seed Bank
Imagine this:
You've ordered cannabis seeds from a random seed bank – you are not satisfied with the seeds, and now you want to return them.
Now, you are consistently approaching the customer support team; however, you cannot help from that side.
Isn't it a horrible experience?
Well, with ILGM, you don't have to be worried about anything like this. All thanks to ILGM customer service, which is available 24/7 for help.
The dedicated backend team is friendly, supportive, and helps you with all concerns.
Even their team is also available for help in the forums and comments.
It is why ILGM is one of the best seed banks out there.
They provide the best seed quality and support and help the grower get the most out of their investment and gardening journey.
To reach the ILGM's backend team, you can follow these two ways:
You can also visit their support page to contact their customer service team for detailed information.
However, due to heavy traffic, the ILGM team usually responds within a maximum of 24 hours. Though most likely, you will get a response faster.
Apart from this, you can also discuss with other expert growers in the grow forum at ILGM.
You are more likely to get some of the queries solved here as this is quite an active forum for growers.
Summing up, ILGM has one of the finest customer services, which is friendly, fast, and helpful for every concern.
Payment Methods At ILoveGrowingMarijuana Seed Bank
ILGM makes it easy to place orders here. Thanks to the multiple payment options here.
Also, having multiple payment methods is necessary as it helps to process your order faster because the seed bank processes order only after successful payment.
The accepted payment methods at ILGM are:
Bank Transfer
ILGM accepts payment via bank transfer.
However, usually, bank transfer takes around seven working days to reflect on the vendor side. Only after a successful transaction will your order be shipped.
Therefore, this is where the other payment methods come into play.
If you have convenience with this payment option, you can surely opt for this.
Cash or Check
Cash is one of the most anonymous payment options, and fortunately, ILGM is one of the seed banks that accept payment in cash.
You can send cash in an envelope in a discreet way as you want.
However, it might take around 1 to 2 weeks to arrive at the ILGM. Only after this will your order be processed further.
Therefore, sending cash is also not one of the best options for a faster order process, though it is the safest and anonymous option.
Regarding check, ILGM has not given any information on their official page. Still, you can reach out to their backend team and ask if they can help with that.
Bitcoin
Bitcoin is one of the safest and private digital payment options. As bitcoin transaction is untraceable, it becomes safe for online purchase.
ILGM accepts bitcoin as a payment method and offers an additional 10% discount on seed purchases.
Don't worry if you are not aware of using bitcoin to do online transactions.
ILGM has even provided a step-by-step guide on purchasing seeds with bitcoin. You can check by clicking here.
Credit Card
After bitcoin, the credit card is the safest and faster option to place an order. ILGM accepts various credit cards.
However, ILGM does not recommend paying with a credit card due to the lower success rate.
You can ensure that your card is enabled for overseas purchases before placing an order. Also, ILGM supports bitcoin transactions and gives additional discounts as well.
Most of the time, credit cards are blocked by the bank servers for cannabis-related payments. If it is not with you, you can surely go ahead by purchasing with your card.
ILGM Market Reputation
ILGM has a huge market reputation.
Almost every marijuana enthusiast knows this brand for cannabis seeds. Even at various grow forums seed bank reviews, ILGM remains one of the top seed banks.
And this is all due to the consistent hard work of the company.
The quality of all the seeds at ILGM remains top of the notch, premium, and backed with a germination guarantee that every grower loves.
On top of that, excellent customer service is there to help every grower out there.
Therefore, growers have rated ILGM 9.1 out of 10 with 17,500+ reviews. Due to the impressive cannabis strains selection, consistent quality, and excellent customer service.
It makes ILGM a famous seed bank with a huge market reputation.
ILGM Website Interface
The website interface of I Love Growing Marijuana is smooth, fast, and user-friendly.
They have great seeds selection and categorized products, which gives you quick access to what you are looking for at the store.
At first glance, the website's appearance is appealing and not over exaggerating things like other seed banks.
Also, every bit of information is available at the virtual store, which helps a lot to know before buying from the seed bank.
Even you can directly search for your favorite strains in the store. That makes it easy for you to directly lookout for your required strain.
Overall, the ILGM website looks very appealing, professional, and has all the required information from an ideal seed bank.
Offers And Discounts At ILGM
ILGM gives regular offers and deals.
One of the most popular offers is the "Buy 10 seeds and get ten free," which is even going on right now, making it a 100% off.
However, their deals and offers are limited for some time, so you have to keep a regular eye on the website to grab the best deal.
Further, ILGM also has a loyalty program for regular buyers. A VIP program is also there.
Apart from this, you get $5 off on your purchase. Also, if you place an order with bitcoin, you get up to 10% off on your whole order.
Moreover, ILGM has also got seasonal and weekly sales, which you have to visit their official page to know more about.
Summing up, ILGM has got various attractive offers and discounts at their store that help you get affordable deals.
However, you can grab premium seeds at a very low price during Black Friday or seasonal sales, for which you need to keep an eye on their official website.
Pros And Cons Of Buying Seeds At ILGM Seed Bank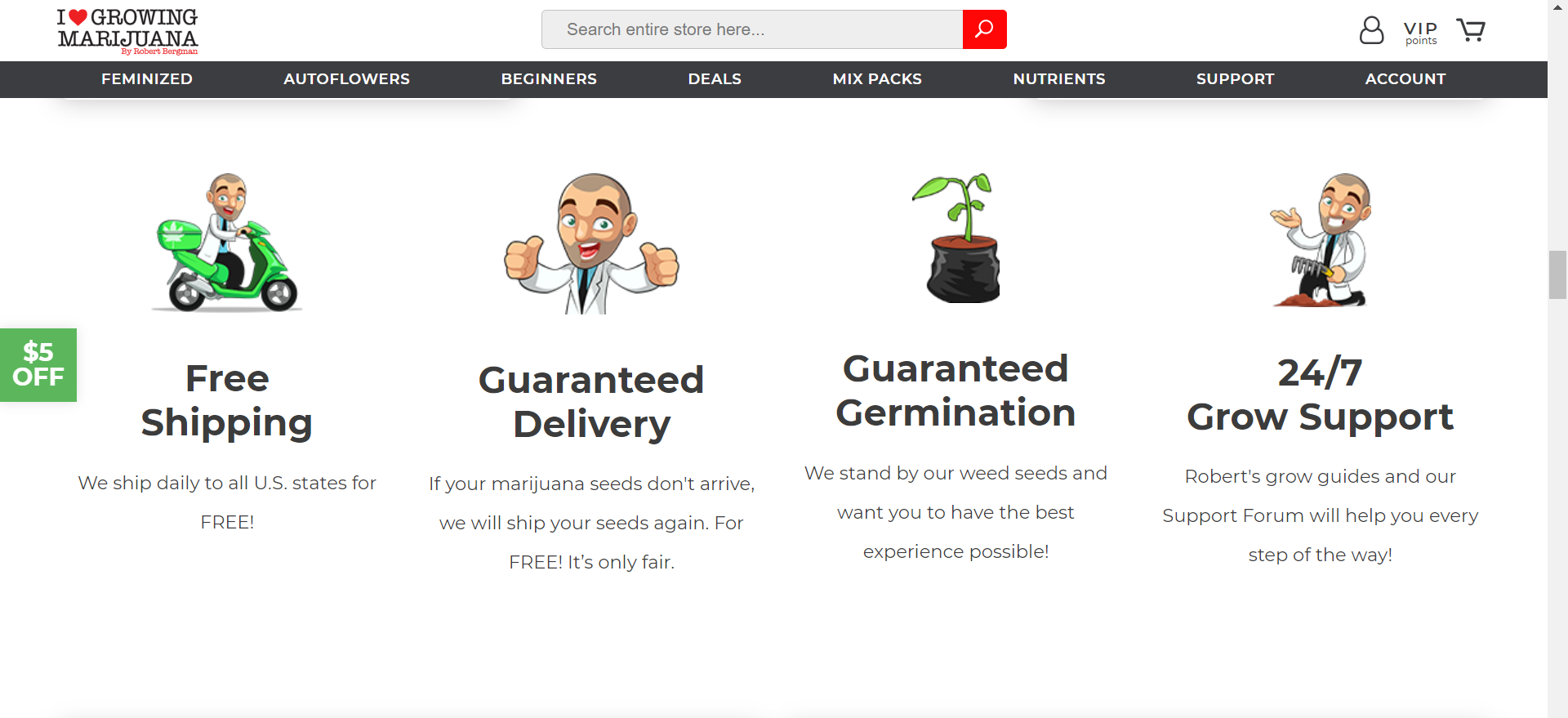 Pros:
Premium marijuana seeds
A variety of strains available
Germination guarantee
Free shipping to all U.S. states
Guaranteed delivery to assure you get your order
Brilliant customer support
Regular offers and discounts
Loyalty program
100% trustworthy and reliable seed bank
Cons:
Not a vast selection of seeds
Slightly pricey seed bank
FAQs
What country is ILoveGrowingMarijuana in?
I Love Growing Marijuana is established in Amsterdam, Netherlands, the hub of coffee shops. However, this seed bank operates as an online seed bank and has no physical branches.
ilovegrowingmarijuana.com
is it legit?
Yes, I Love Growing Marijuana is a 100% legit seed store established in Amsterdam, Netherlands. The store has a score of 9.1 out of 10 at Kiyoh from 17,500+ reviews.

Therefore, you can completely trust ILGM seeds.
Can ILGM deliver in Australia?
Yes, ILGM ships to Australia. However, as per the latest update, they have stopped their services in Australia for some reason. Hopefully, they will resume their services soon.

You can also confirm from their backend team once if they are available to your region now.
ILoveGrowingMarijuana Reviews: Conclusion
ILGM has one of the best reviews and reputations among the cannabis community.
They offer top-shelf weed seeds, customer service, and multiple offers. Their weed seed quality remains top-notch and better than other seed banks.
Also, their customer support team is excellent, which makes the overall buying experience from ILGM far better.
Therefore, we highly recommend you ILGM.
You are sure to have one of the best experiences of buying cannabis seeds at I Love Growing Marijuana.