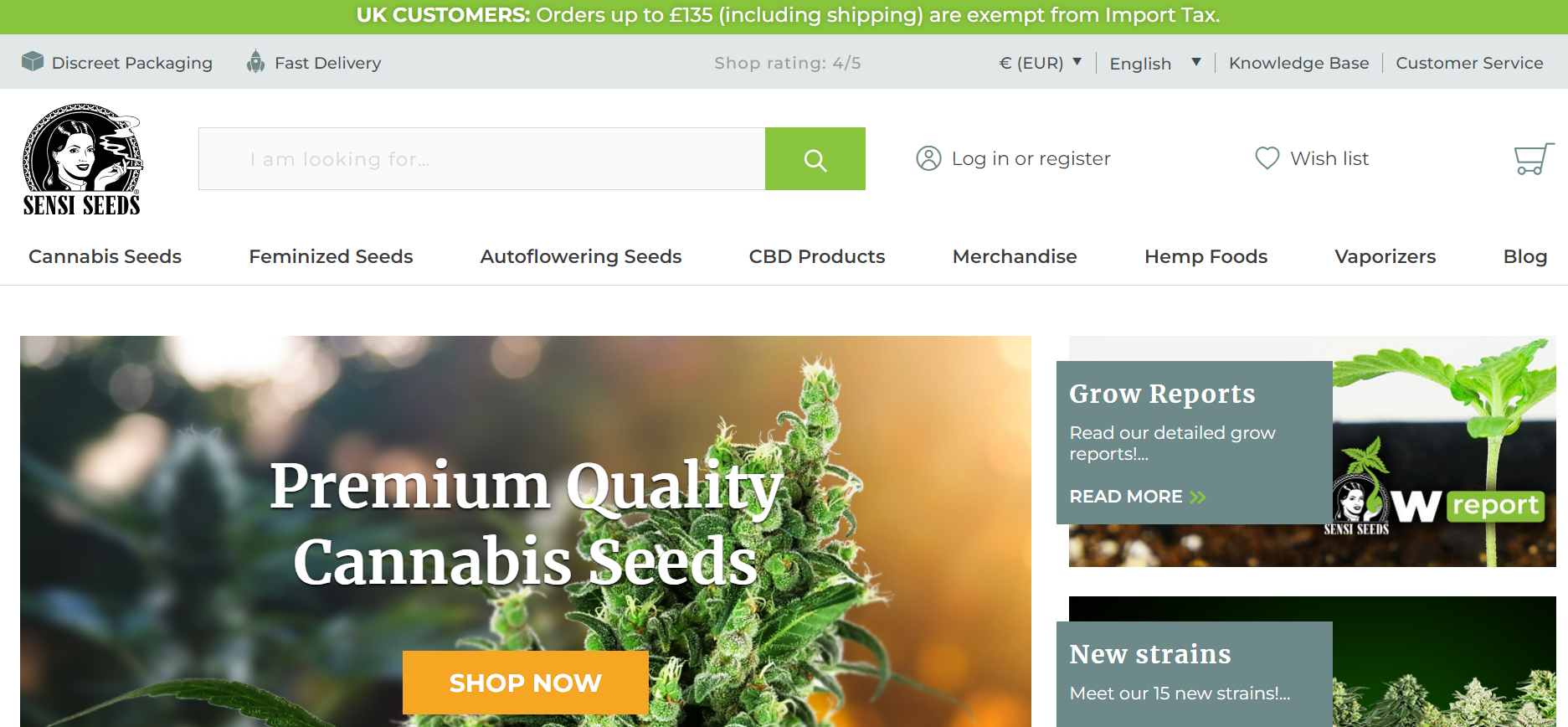 If you are a marihuana lover and residing within the European region, you must have heard of Sensi Seeds.
Sensi Seeds is one of the best seeds sellers in the EU countries.
However, this seed bank does not ship to the rest of the world, where seed banks like Herbies Seeds and ILGM can help you get premium seeds.
So, will Sensi Seeds will be worth buying seeds in 2022?
Or Is Sensi Seeds an excellent seed bank when there are better options?
You will find everything about this European seed bank in today's review.
Let's get started:
Is Sensi Seeds Safe?
Yes, Sensi Seeds is a 100% safe seed bank.
It is one of the legit seed sellers that has been working in the cannabis industry for over 36 years now.
Therefore, Sensi Seed Bank is one of the most reputed and top names for buying high-quality cannabis seeds.
Also, this seed bank has an excellent 4.5/5.0 rating from 1600+ reviews on Facebook and a 4/5 shop rating that shows how excellent the services are at Sensi Seed Bank.
Many people rave about Sensi Seeds' marijuana seeds and services and find it better than other seed banks.
So when it comes to buying cannabis seeds from Sensi Seed Bank, you can blindly trust this oldest cannabis seed bank.
Sensi Seeds is legit, safe, and one of the best seed banks shipping to the European region.
Consider ILGM or Herbies Seeds if you want premium seeds shipped to the USA.
A Quick Sensi Seeds Review
Can't wait? Let's have a quick sneak peek into Sensi Seeds' review:
Established: in 1985 in Amsterdam.
Seeds Available: Feminized seeds, autoflowering seeds, regular seeds, cannabis cup winners, Sativa, Indica, and many more varieties.
Services: Discreet packaging, fast delivery, multiple payment options, excellent customer service team, return policy available.
Rating: Excellent 4.5/5.0 from 1600+ reviews, 4/5 shop rating.
Review: 100% recommended seed bank for EU-based growers. Sensi Seeds has one of the best cannabis strains of premium genetics, while its services are the cherry on top.
No doubt, with an excellent rating of 4.5 why you can blindly trust and buy Sensi Seeds.
Click Here And Buy Sensi Seeds
History Of Sensi Seeds

Sensi Seeds has a long history of 36 years.
Ben Dronkers founded Sensi Seeds in 1985 out of his passion for providing top-notch seed quality to the growers.
However, the story of Sensi Seed starts even 10 years back during the mid-70s, when Ben started growing cannabis.
He also traveled worldwide to collect some of the finest cannabis seeds genetics.
Knowing different cannabis cultures and how people grow cannabis in various forms made Ben fill the knowledge and experience in Sensi Seeds.
With years of knowledge base and experience, Ben finally founded Sensi Seeds in 1985.
Fun Fact: Ben Dronkers started the hash marihuana hemp museum in the Red Light district.
Up to the late 1990s, Sensi Seeds has only 40 marijuana strain selections.
However, Sensi Seed bank continuously introduced more and more cannabis seeds to its inventory.
Now, they are one of the leading seed banks in Europe. To date, Sensi seed bank has over 500+ high-quality weed seeds.
Apart from hundreds of cannabis strains in the account of Sensi seeds' inventory, the company is famous for its legendary strain selection of Northern Lights and Jack Herer.
So, Sensi Seed bank has traveled a long way from a minor stock of strains selection to now the world's one of the most famous and largest seed banks.
With 36 years of long history, Sensi seed bank is one of the world's oldest seed banks.
The company has been consistently delivering quality cannabis seeds and has one of the top-notch services in the market today.
A Deciding Sensi Seeds Review Before Buying Cannabis Seeds
It's time to dive deeper into the Sensi seed bank review:
Cannabis Seeds Selection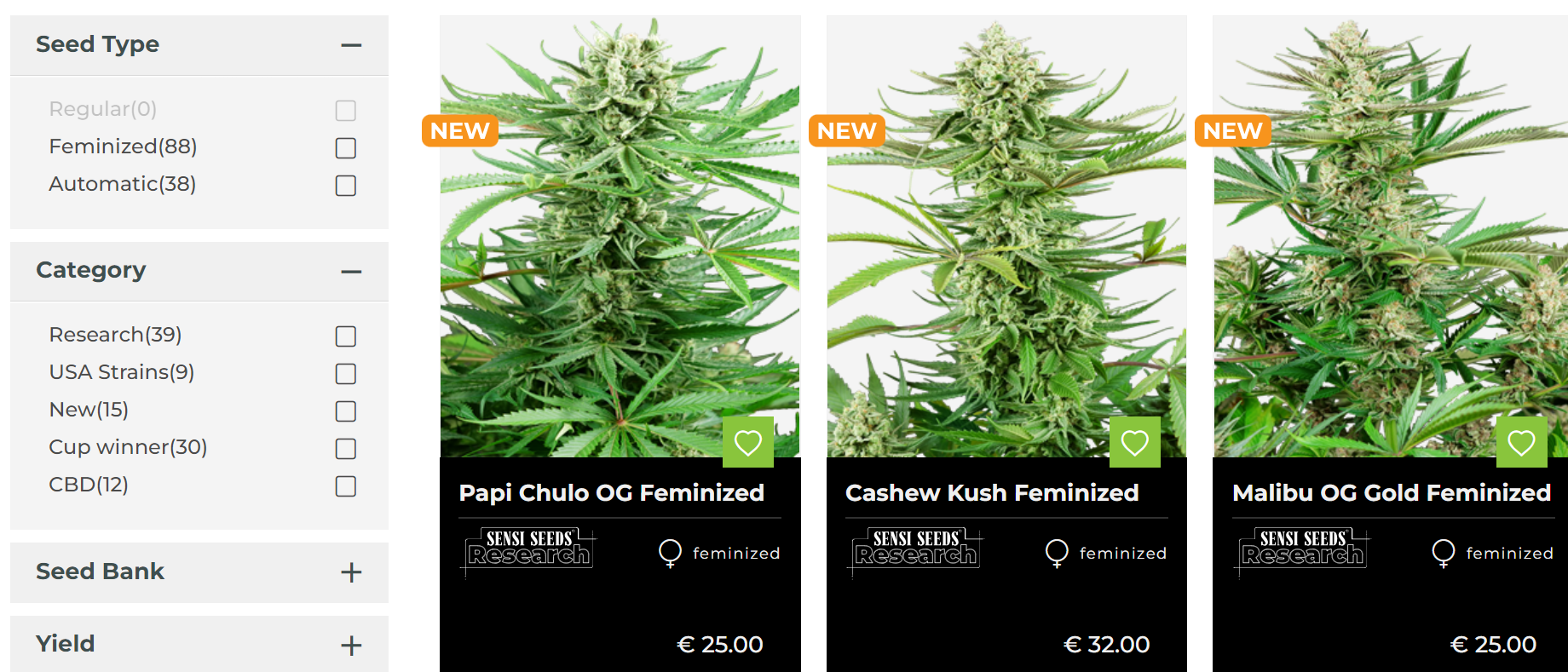 Sensi seed bank now has 500+ cannabis seeds to select from.
The inventory has feminized seeds, regular seeds, and autoflowering seeds.
All the seeds are premium quality and checked for quality standards for a significant weed effect, excellent expected yield, and taste.
Further, the variety available at Sensi Seeds also goes to Indica, Sativa, height, flowering time, yield, climate zone, and more options.
With many marijuana strains in stock, you can effortlessly search out your favorite cannabis seeds by applying various filters.
Also, the Sensi seed bank has a special section of research strains that allows you to get your hands on the latest dropouts of this seed bank.
To grow cannabis of new genetics, you can buy seeds from the research filter. That will directly give you access to the latest launch of the Sensi seed bank.
Also, you will find cannabis cup winner strains on the Sensi Seeds inventory.
So overall, you will find hundreds of cannabis seeds to buy from at Sensi seed bank. It is no doubt why it claims one of the largest and oldest seed banks in the cannabis industry.
Now, let's have dive further to know the Sensi seed bank stock:
Sensi Seeds Feminized Seeds
Sensi Seed bank has around 88 feminized seeds in stock.
The company knows that most growers want female plants in their garden; therefore, Sensi seed bank has the majority of seed selection of feminized seeds.
With all of the growing experience of experts and the backend team, you will find one of the most premium feminized cannabis seeds here.
Some of the most famous feminized strains of Sensi Seeds are:
Recommended Sensi Seeds Autoflowering Seeds
Sensi Seeds CBD Products
Apart from the top-notch marijuana seeds, Sensi Seeds also has a separate section of CBD products.
You can access CBD products made up of premium marijuana plants.
It is beneficial for medical patients and customers looking for CBD oil, CBD capsules, etc.
To get more info, you can check the CBD product section of the Sensi seed store.
Quality Of Seeds At Sensi Seeds
Sensi seed store has great quality cannabis seeds at the store.
The company is mainly world-famous for the quality of seeds that it provides.
Therefore, when it comes to the colossal market reputation of the Sensi Seed store, the seed quality is the majority part to be taken into account.
You will get the most out of your crop with premium genetics and top-of-the-line quality.
Just plant your cannabis seeds and watch them rain buds!
However, this seed store does not provide a germination guarantee like ILGM and Herbies Seeds.
Still, most other customers have reported a successful crop from the Sensi cannabis seeds.
Also, to germinate seeds, you can get help from the Sensi blog, where you can learn how to germinate cannabis seeds in the best possible way.
You will also find beneficial knowledgeable articles regarding the cultivation of cannabis.
Overall, the seed grade at the Sensi seed store is top-notch.
The company has been in several years in the industry and has built a common household name for top-notch weed seeds among cannabis growers.
Pricing Of Seeds
Pricing at the Sensi seed store is reasonable and affordable.
You get all of your money worth the investment. The price per seed is done so that every customer can afford it.
For instance, if you buy a sensi seeds pack of 10, the seed per price will be as low as 7.5 Euros.
It is how much the seed bank has made its seeds affordable for every customer.
No doubt why a lot of beginner growers buy seeds from here. It is because Sensi Seed bank fits into every budget.
Payment Options
Sensi Seed bank has limited payment options.
You get these many options:
Credit Card (VISA And MasterCard)
Cash
Bank Transfer
However, there are no bitcoin and credit cards combination options. Also, there are no international money order, cheque, or PayPal options.
If you need a seed bank that accepts multiple payment options, check Herbies Seeds.
Shipping Service
Sensi Seeds do not ship to every country in the world. Instead, they ship to most of the countries in the EU union.
Therefore, consider this factor while ordering seeds from the Sensi store.
Further, the company ships the order as soon as possible once your payment is received. For different payment methods, the shipping time might vary.
For instance, credit card orders will be processed immediately and shipped the next working day. However, on the other hand, bank transfers can take up to 7 working days.
Shipping Cost:
The good part is that Sensi Seed bank offers free shipping to orders above 75 Euros.
However, for other orders, the shipping cost is as follows:
Standard Shipping: It includes a 7.50 Euros charge on your package for standard shipping. However, in this, there will be no track and trace option. Also, no insurance.
Secure International Shipping: This shipping service adds an extra layer of security to your order.
If you are ordering certain strains of premium line or ordering from a suspicious location, opt for secure international shipping.
It will include a tracking and tracing feature to make you keep an eye on your package. Also, your order will be insured if your package does not reach you.
However, this shipping costs you 12.50 Euros.
If you are ordering in bulk or above 75 Euros, you will be eligible for free shipping, though, for extra discreetness, Sensi seed will charge 5 Euros.
Moreover, you will get a tracking number to know your order status frequently.
Delivery Time
Before delivery of your order, Sensi seed ensures your package is completely discreet and safe from the eyes of customs and authorities.
That is why the Sensi seed store never mentions anything related to the contents of sensi seeds or the customer on the package, which can make it look suspicious.
Once your order is shipped, most likely, you will receive it within 2 to 10 business days, depending upon your location.
Also, the Sensi seed store has not provided any specific details about the order's delivery time.
Customer Service Team At Sensi Seeds
Customer service at the Sensi Seed store is brilliant.
You can contact the backend team via call, e-mail, or website.
The backend team is friendly, fast, and responsive that helps you in every possible manner.
The excellent customer service department of the Sensi store makes your money worth the investment.
Sensi Seeds Website Review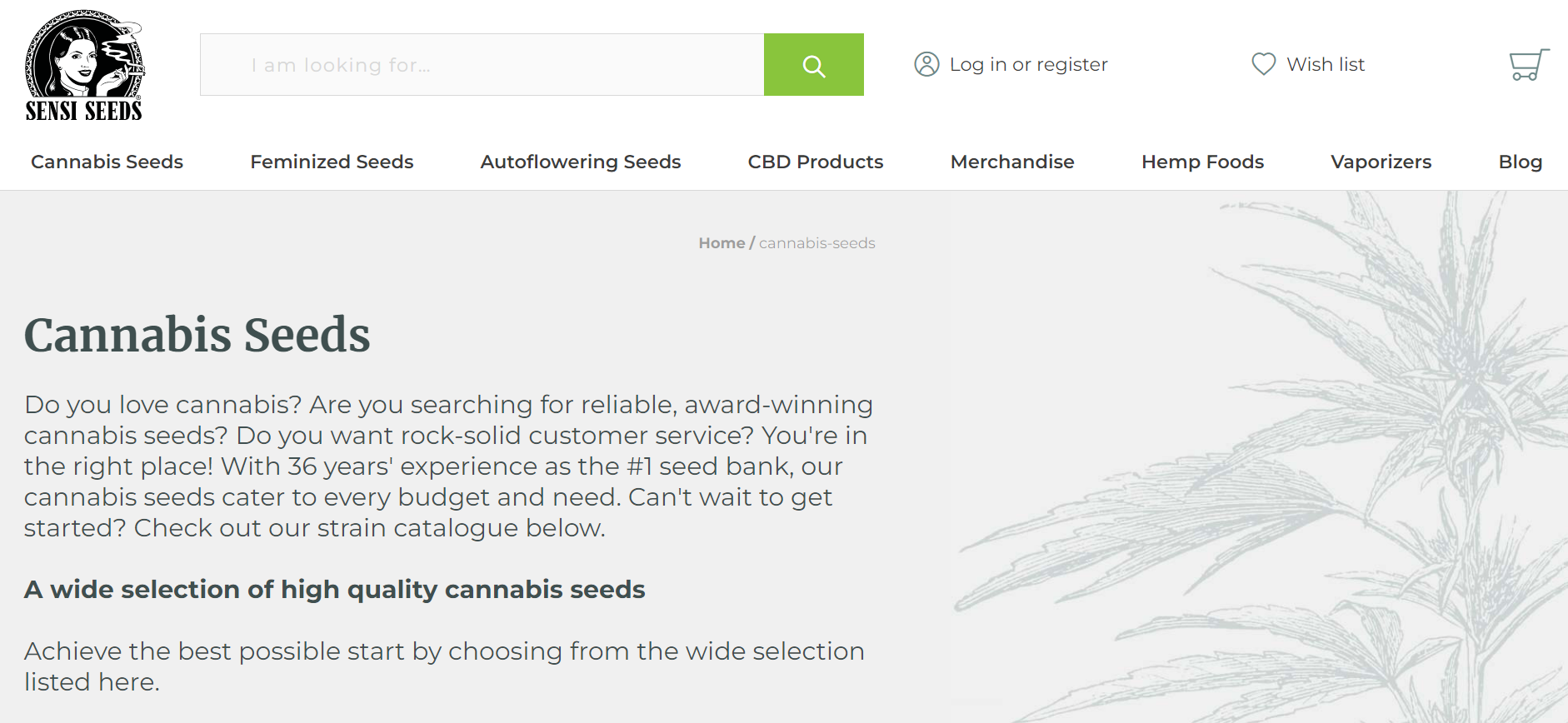 The website of Sensi seed bank is impressive.
It is well organized, easy to navigate, and gives a smooth experience while accessing content over it.
You can quickly search for your favorite seeds, log in, and place your order through various payment options.
Also, there is all information available for a first-time buyer.
So, in a nutshell, the website of Sensi seed bank is perfect, and the overall buying experience from here becomes super easy, smooth, and fast.
Refund And Return Policy
The company gives you 14 days of return policy after receipt of delivery.
You can contact the customer service department for any help you need for your seeds or package.
Top 3 Seeds To Buy From Sensi Seeds
Afghani #1: best cannabis seeds for beginners, grows indoors and outdoors, high yield, tasty, and intense weed effects.
OG Kush: best cannabis seeds for advanced growers, highly vigorous plant, decent yield, powerful weed effect, recommended to experienced stoners only.
Ak-420 (New Strains): one of the new strains, heavy yield, delicious taste, and average flowering time.
Pros And Cons Of Sensi Seeds
Pros:
One of the oldest seed banks in the world.
500+ cannabis varieties.
Premium genetics.
Excellent customer service.
36+ years of service in the cannabis industry.
Multiple payment options.
Highly reputable seed bank.
Cons:
Only ships to the European countries.
No germination guarantee.
FAQs About Sensi Seeds
Where are Sensi Seeds from?
Sensi Seeds is located in Amsterdam. They have physical locations in Amsterdam, Netherlands, and Barcelona, Spain. However, the company mainly operates as an online seed bank.
Does Sensi Seeds ship to the USA?
No, Sensi Seeds ship to the European countries only. They have been in the marijuana industry of the European region for 36 years now.
You can check the best USA seed banks for seed banks shipping to the USA.
Sensi Seeds Review: Conclusion
Many Sensi seed bank reviews have been pretty positive and for the right reasons.
Therefore, I 100% recommend buying cannabis seeds from here.
However, the only drawback is that this seed bank does not ship worldwide.
Still, the company is working on its services to provide quality seeds worldwide.
For a seed bank that ships worldwide and provides a germination guarantee with a 100% customer satisfaction guarantee, then I trust Herbies Seeds.